Sean Hannity and I discussed my father Frank Connor, Eric Holder and his role in the disgracefully craven Clinton clemencies to FALN terrorists on Hannity.
My dad and all Americans deserve better.
Please click here to watch.
http://video.foxnews.com/v/2480470684001/why-did-the-attorney-general-pardon-terrorists/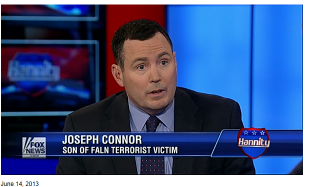 I will be live on the radio with Lisa Benson at 5:00pm ET on Father's Day, Sunday June 16 to discuss among other things, my father Frank Connor, our family's quest for justice and The New Founders. www.thenewfounders.net
Listen LIVE from anywhere on
www.nationalsecurityspeaker.com
or
www.960thepatriot.com
Happy Father's Day.