James Rosen focused on the return of FALN fugitive bomb maker William Morales on Special Report with Bret Baier on FNC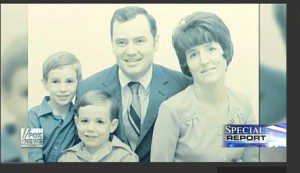 Thank you to James Rosen and the Fox team for focusing on the return of FALN fugitive bomb maker William Morales who has been a guest of Castros' Cuba since 1988.  Any normalization of relations with Cuba must minimally be conditioned on the return of Morales, Joanne Chesimard (Assata Shakur), Victor Gerena, Charlie Hill and the reported 70 other fugitives receiving refuge in Cuba.
Please click on the  photo of my dad and his young family to the right to view the full report and here and below for Mr. Rosen's written report.  http://www.foxnews.com/politics/2015/02/09/for-relatives-terror-victims-cuba-detente-revives-painful-memories/
"He's no longer viewed as an asset to the Castro regime," Connor told Fox News. "So I think at this point they're probably not going to put up much of a fight to keep him."
Extradition of Morales would bring some measure of closure to the Connor family, and help Joe Connor better navigate the demands of work, family – and justice. "When I'm sitting on the couch watching TV with the family, sometimes I'm thinking maybe I should be writing something [ to advance the case]," he said. "This stuff is draining….Writing about it continuously, over and over, is physically and mentally draining."
But it's the precious photographs and home movies of Frank Connor that keep his son going.
"My dad deserved my best," he said.
If you agree, please contact your senators and house member requesting he or she demands the Administration bring Morales and the others back to face justice as a condition of any normalization of relations with Cuba.
Please click below for several letters from the DoJ during the 1990s regarding Morales' return.