Remembering 9/11 as our fight for justice continues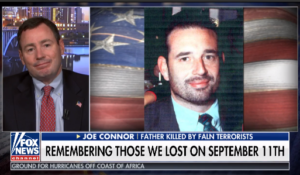 On Fox & Friends, Steve Doocy and Joe remembered cousin Steve Schlag and all the souls murdered on 9/11/01 and their families.
Please click here or on the link above for our discussion.
On Redstate Radio's the CL Bryant Show, CL and Joe discussed America and the arrogance of the political elites through the context of Joe's books  The New Founders and Shattered Lives.
Please click above or on the link below for the full discussion.
https://www.stitcher.com/podcast/the-cl-bryant-show/e/56214356
May we never forget but always be prepared to act.