On Fox & Friends June 15, Brian and Joe discussed the travesty of a Salem, Virginia company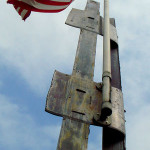 putting steel beam memorial relics from the World Trade Center up for auction; for sale to the highest bidder. Good news came the following day when the company offered the memorial to the town.
Well done Fox & Friends.
Link to Fox & Friends
http://video.foxnews.com/v/4297314171001/
Link to Roanoke.com story
http://m.roanoke.com/news/local/salem/memorial-in-salem-to-be-donated-to-city/article_200e3bb1-a6f6-5cdd-8afd-f7d9b7fa94f4.html?mode=jqm