Varney & Co: Joe and Stuart Varney discussed the PC of Parallel Capitulation in Cuba and Iran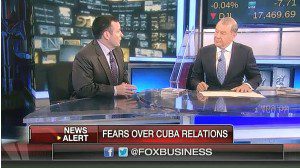 "The President doesn't negotiate at all…"
Joe discussed the Obama Administration's capitulation to Cuba and Iran with Stuart on Varney & Co Monday morning.
For the full interview, please click here, on the photo or copy and paste the link below into your browser.
http://www.foxbusiness.com/politics/2015/08/17/anti-terror-activist-equates-cuba-to-iran-deal.html
Also As published in Fox New Latino on Friday, August 14.
With much fanfare, the U.S. embassy in Havana opened for the first time in 54 years. Instead of Kerry demanding Cuba returns fugitives from American justice, the Obama administration unilaterally handed legitimacy and the hard currency of international acceptance to a regime that has sponsored terrorists for half a century and even today harbors convicted terrorist fugitives including BLA cop killer Joanne Chesimard and William Morales. Morales' Armed Forces for National Liberation (FALN) murdered my father Frank Connor
In a parallel capitulation halfway across the globe, instead of ensuring Iran never attains nuclear weapons, the same John Kerry is concerned that Iran, the world's largest exporter of terrorism, would not trust the U.S. if Congress does its job and rejects the Obama administration's insidious nuclear surrender.
For the full story from Fox News Latino, please click here or copy and paste the link below.
http://latino.foxnews.com/latino/opinion/2015/08/14/opinion-today-in-cuba-secretary-john-kerry-presided-over-another-capitulation/