Puerto Rican Day Parade; Viverito & Deblasio award terror for politics
Named "National Freedom Hero" for the June 11, Puerto Rican Day parade by the reprehensible New York City Council Speaker Melissa Mark Viverito, Oscar Lopez Rivera's FALN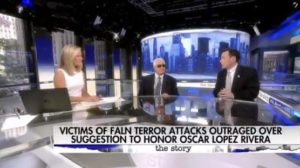 terrorists not only murdered and maimed innocent civilians in NYC at Fraunces Tavern and the Mobil Oil Building among their 120 plus bombings but twice ambushed NYPD officers including Bomb Squad Detective Richard Pastorella.
They used guerrilla tactics – lures, booby traps and detonation delays – to maim or blind four officers.  In fact, U.S. intelligence determined that the FALN received its training  – "Viva la Revolucion"  – from Castro's communist Cuba in the late 1960s and early 1970s.  Convicted, fugitive, FALN bomb maker William Morales, BLA cop killer Joanne Chesimard (AKA Assata Shakur) and others remain guests of Castro's Cuba.
With the eloquent Detective Pastorella blinded by an FALN bomb, Joe demand on The Story with Martha MacCullum, "If not for terrorism, what did Lopez do to win this "Freedom Hero" award and push the Independence of Puerto Rico?"   This is no answer.
Please click below for Richie and Joe's points.
http://www.foxnews.com/on-air/the-story-with-martha-maccallum/index.html#/v/5466372767001
On Varney & Co, Joe rips the politicians, Clintons, Obama, DeBlasio, Viverito and Gutierrez, for releasing and now awarding FALN terrorist Oscar Lopez a "Freedom Hero" award.
http://video.foxbusiness.com/v/5457553858001/
Please click here or the above link for the 4 minute segment.
At a presser outside Fraunces Tavern, Joe and Mayoral Candidate Nicole Malliotakis condemned Mayor deblasio, and other NY politicans for supporting terrorist Lopez Rivera as a hero.
Chasing News was the only news show to chase Lopez to his "Welcome" in the Bronx.  Thanks to Diana Blass for reporting and discussing.
There are so many great people, stories and issues arising it is impossible to capture even a small fraction.  Please GOOGLE the Puerto Rican Day Parade for more information and stories.