No Terrorist Hero: Sponsors and politicians abandon the Puerto Rican Day Parade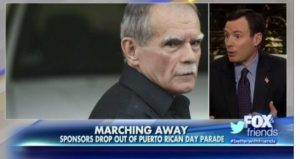 An amazing group of friends and enormous social media support from Puerto Rican  and non Puerto Rican Communities have proven that We the People still have power.
Through our tenacity, passion, common sense understanding of right and wrong, and just plain WILL we have contributed to all major sponsors,unions and most officials, including the NYPD Police Commissioner O'Neill and NY Governor Cuomo pulling their support from the June 11, Puerto Rican Day Parade that plans to honor the convicted FALN terrorist Oscar Lopez Rivera.
Lopez is to receive a "Freedom Hero" or some such award.  A Freedom Hero award to a Marxist whose FALN murdered four at Fraunces Tavern, the very birthplace of freedom in our country?  He deserves no such award.
Lopez's FALN murdered five innocent men in New York, Harold Sherbourne, Jim Gezork, Alex Berger, Charles Steinberg and our father Frank Connor. In addition they shattered the lives and families of the dozens of wounded they left in their wake.
Thank you all who have made this boycott possible.
The contributions are too numerous to site so here are a few samples:
We thank former sponsors such as Goya Foods, JetBlue, AT&T, Coca-Cola, NY Yankees, Telemundo and The Daily News, for withdrawing sponorship.
Now we push for Mayor Deblasio to withdraw from the parade or for Council Speaker Viverito to disassociate Lopez from the parade and withdraw his award.
Please let you know how you feeling using the information below.
Thank you for your support and keep up the fight for justice.