My Kind of Town Chicago Is….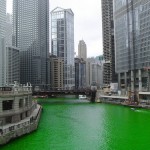 Chicago was and is one of my favorite cities to visit. Michael Jordan of the Chicago Bulls is the best basketball player I have ever seen, an opinion shared by most NBA fans over the years. Ferguson Jenkins of the Chicago Cubs was one of my all- time favorite pitchers. The Cubs played in Wrigley Field and along with the Chicago White Sox old home stadium, Comiskey Park, were two of my favorite baseball stadiums. As a kid, I had a poster of Chicago Blackhawks goalie Tony Esposito hanging in my room. And nobody could forget the Walter Payton led Chicago Bears team that nearly went undefeated on the way to their blow-out Super Bowl win.
Throw in the fact that Nothing in Common, one of my favorite movies and Married with Children, one of the longest running comedy television shows, both took place in Chicago. And if you want a memorable lunch, nothing beats Chicago's Ed Debevics.
I mentioned the word Chicago 8 times.
Hey Chris Matthews, does that make me a racist?
Note: Join the Founding Fathers as they come alive in 21st Century America in Joe Connor and Mike Duncan's inspirational, humorous, and emotional new novel TheNewFounders.net.