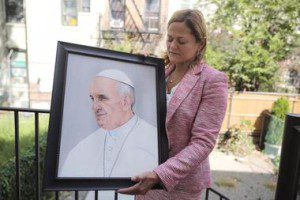 New York City's number 2, Melissa Mark Viverito advocates to the Pope for a convicted terrorist and endorses Hillary Clinton.
From Murray Weiss at DNAInfo.com, Viverito advocates for terrorist to Pope
She (Viverito) is an elected New York official and instead of asking the Pope to help all kinds of needy people in New York, she advocated for someone whose terror group killed New Yorkers.
Please see Mr. Weiss's story below.
http://www.dnainfo.com/new-york/20150929/civic-center/terror-victim-sickened-that-viverito-asked-pope-pray-for-jailed-leader
From Daniel Greenfield at Frontpage.com, Viverito endorses Hillary Clinton
Naturally Viverito endorsed Hillary Clinton. Clinton supported the Marxist FALN terrorists; being the force behind the 1999 Clinton / Holder clemency offers to those terrorists who murdered my father Frank Connor and others.  As written above, Viverito is pushing for a second clemency grant to the FALN terror leader who refused freedom in 1999.
Please see Mr. Greenfield's story below:
http://www.frontpagemag.com/point/260139/marxist-terrorist-supporter-endorses-hillary-daniel-greenfield