Overriding Obama's JASTA Veto, Judge Napolitano and Joe debate Ambassador Bolton on KENNEDY
Justice Against Sponsors of Terrorism Act (JASTA):  Overriding President Obama's veto, we the people won results when this administration would not act.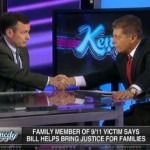 On FBN's Kennedy Thursday, Judge Napolitano and Joe debated with Ambassador Bolton, congress' override of Mr. Obama's veto.  9/11 families are now allowed to sue Saudi Arabia for their involvement in the 9/11 attacks.  We may finally get the truth about Saudi's role in the mass murders.
Please click here or copy the below link into your browser.
http://video.foxbusiness.com/v/5148019818001/did-congress-make-a-mistake-overriding-obamas-911-bill-veto/?#sp=show-clips