New from Jeff Ingber & Joe Connor, Shattered Lives; Overcoming the Fraunces Tavern Terror
Shattered Lives; Overcoming the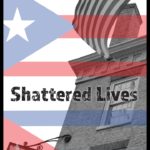 Fraunces Tavern Terror
Shattered Lives begins by taking the reader into the graphic horror of major terror attacks, the lives of victims and their families, the aftermath of their shattered lives and even the terrorists themselves, providing context for their deeds.
On January 24, 1975, six young businessmen were enjoying lunch in lower Manhattan's historic Fraunces Tavern when a bomb placed inside the restaurant exploded, tearing throughout the building. It had been planted by a group claiming support for Puerto Rican independence known as the FALN," the most active domestic terrorist organization in American history. Among those businessmen were two sons of immigrants and only children – Frank Connor, with a wife and two young boys, and Alex Berger, whose wife was six months pregnant. Both were murdered, along with two other men, while dozens were injured, some horrifically.
Shattered Lives, co-authored by Jeff Ingber and Joe Connor, Frank Connor's son, chronicles the origins of the Puerto Rican independence movement, its transformation into a Cuban-led Marxist cause, the FALN's decade-long reign of murder and destruction that also maimed four NYPD officers, the hunt for the terrorists directed by a group of dedicated FBI agents, the inexplicable escape from prison by the FALN's chief bombmaker who eventually received asylum in Cuba, and the political maneuvering at the highest levels of federal government to grant clemency to a dozen FALN members, including its leader.
Through extensive, exclusive interviews with survivors and family, Shattered Lives further tells of the devastating impact of the Fraunces Tavern bombing on the Connor and Berger families as well as on its many other victims, which united them in their struggle to move forward while seeking justice for their loved ones.
Shattered Lives is now available on Amazon.