On April 7, Steve Malzberg and Joe introduced Shattered Lives on WMAL in Washington.
We discussed the origins of this book to the night before 9/11/01, the many incredible families shattered by the Fraunces bombing, Fraunces' connection to George Washington and the shocking photos of who appears to be terror leader and two time presidential clemency recipient Oscar Lopez Rivera taken outside of Fraunces only minutes after the attack.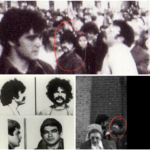 Our father, Frank Connor's life was too valuable to be exploited by cheap politicians. This story brings justice to his life and those of other terror victims who deserved better.
Hope you listen to Steve and my talk and get something out of the book.
Shattered Lives is now available on Amazon.
https://www.amazon.com/dp/0985410043/ref=sr_1_1?ie=UTF8&qid=1522271874&sr=8-1&keywords=jeff+ingber