The Heritage Foundation presents Shattered Lives; 12:00 noon, Friday June 22, 2018
Presenting Shattered Lives, Overcoming the Fraunces Tavern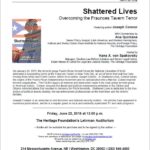 Terror: 
Friday, June 22, 2018 at 12:00 p.m. The Heritage Foundation's Lehrman Auditorium, 214 Massachusetts Avenue, NE | Washington, DC 20002
Books will be available for purchase and signature by the authors
Featuring author Joseph Connor, with commentary by Heritage's Ana Quintana and hosted by Hans A. von Spakovsky
RSVP online at heritage.org/Events/ | or call (202) 675-1752
On January 24, 1975, the terrorist group Puerto Rican Armed Forces for National Liberation (FALN) detonated a devastating bomb at the Fraunces Tavern in New York City, an act of terror that took four lives.
Among those killed was Frank Connor, father of co-author Joseph Connor. In Shattered Lives, Connor and Jeff Ingber trace the origins of the Puerto Rican independence movement and its radicalization into a Marxist, Cuban-inspired terrorist organization. The FALN's legacy of violence and destruction made it the most active terrorist group in American history.
Connor recounts the deceit and political maneuvering entwined in the Clinton and Obama Administrations that resulted in clemency for FALN terrorists. Shattered Lives is dedicated to the true victims of political double-dealing: the law enforcement professionals on the front lines and the victims' families.
Joseph Connor is an advocate on anti-terrorism and national security matters. His articles have appeared in numerous publications, and he is a regular guest on local and nationally syndicated TV and radio programs.
____________________________________________________
Friday, June 22, 2018 at 12:00 p.m.
The Heritage Foundation's Lehrman Auditorium
~ Books will be available for purchase and to be signed by the author. ~
RSVP online at heritage.org/Events/ | or call (202) 675-1752
Terms and conditions of attendance are posted at heritage.org/Events/terms.cfm
All events may be viewed live at heritage.org
News media inquiries, call (202) 675-1761
214 Massachusetts Avenue, NE | Washington, DC 20002