Eric Shawn, Stuart Varney, Brian Kilmeade and Bernie & Sid discussed Shattered Lives this week
An exciting week for Shattered Lives included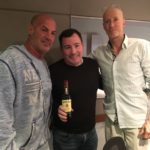 memorable interviews on Fox.
Brian Kilmeade Radio Show;  Audio
Shattered Lives is getting great reviews for bringing the truth about these released terrorists and the craven politicians who use terror victims lives and deaths for their political gain.
Why Fraunces? Why Frank Connor?
Overcoming terror,
Clinton / Obama / Holder clemency to the FALN,
Disgraceful honor for Oscar Lopez Rivera at Puerto Rican Day Parade,
Return terrorists from Cuba including William Morales and Joanne Chesimard,
Frank Connor, Alex Berger, Jim Gezork, Charles Steinberg, Harold Sherbourne, Charlie Murray, Steve Schlag and their families deserved better.
If this injustice could happen to our families, it could happen to any family.
Additionally on Fox & Friends First Todd Piro and Joe dug into the politics of Gina Haspel's nomination as CIA Director. Again, elected officials putting politics over the safety of America.
http://video.foxnews.com/v/5782399025001/
Look out for more upcoming interviews.
Shattered Lives is available on Amazon.