Joe on Megyn Kelly Terrorism Special / Frank Connor, forever 33
On the Kelly File  July 1, Joe discussed the noose of Political Correctness and raised the reprehensible Clinton clemencies to the FALN terrorists who murdered his father Frank Connor.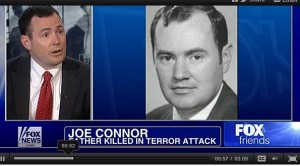 The panel was filled with amazing people. From Navy Seals to soldiers and brave women shot in the Orlando night club, it was an honor to be part of the discussion.
Please click on the video clips below.
Joe rebuts nonsensical argument on Islam.
Today in Townhall.com, on what would have been his father's 75 birthday, Joe lamented the state of our nation wondering if his dad would even recognize his beloved country.
http://m.townhall.com/columnists/joeconnor/2016/07/12/frank-connor-forever-33-n2191223
Please click here or copy and paste the above link into your browser and help people understand where our country is today.
---